Rugby World Cup 2019 Toyota Stadium Game venue / combination,Access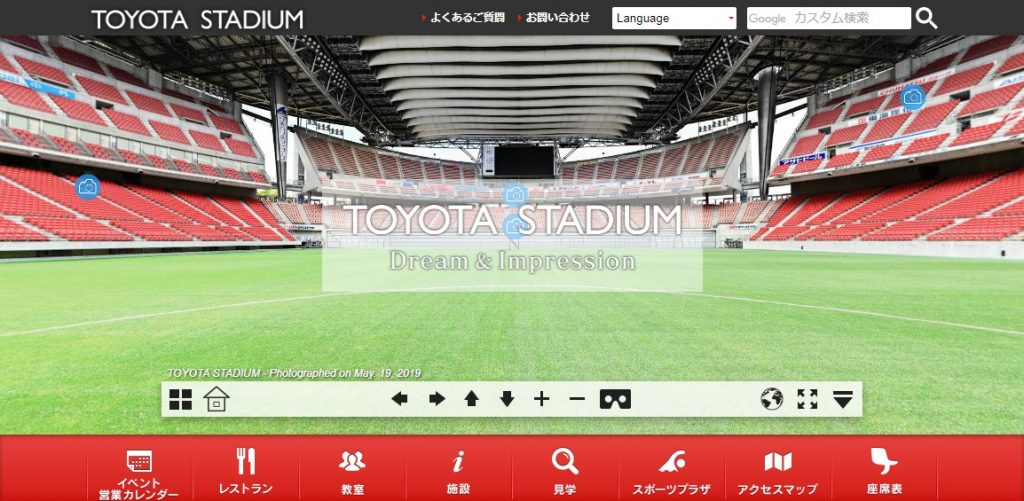 Toyota Stadium
Venue overview
| | |
| --- | --- |
| location | 7-2 Sengokucho, Toyota City, Aichi Prefecture 471-0016, Japan |
| Seating capacity | 45,000 people |
access
15 minutes on foot from Toyota City Station on the Meitetsu Toyota Line / Mikawa Line, 17 minutes on foot from Shin Toyota Station on the Aichi Loop Railway / Aichi Loop Railway Line
Toyota Stadium Game Schedule / Combination
POOL D
September 23 (Monday)
19:15
Wales vs Georgia
POOL B
September 28 (Sat)
18:45
South Africa vs Namibia
POOL A
October 5 (Sat)
19:30
Japan vs Samoa
POOL B
October 12 (Sat)
13:45
New Zealand vs Italy
Toyota City Local cuisine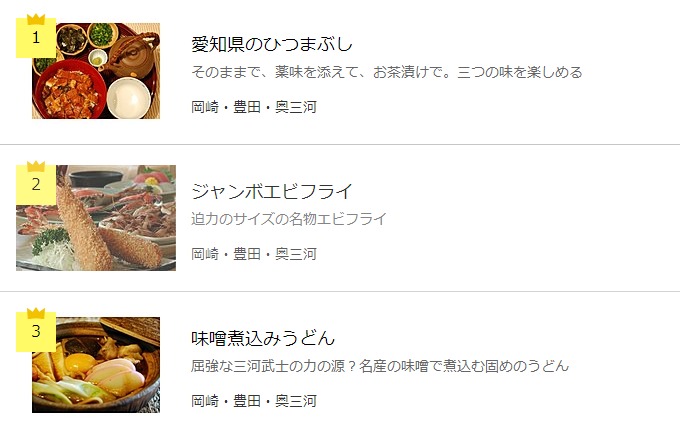 1.Hitabushi(ひつまぶし)
A rice dish that is chopped eel grilled eel without steaming and then chopped into small pieces. The theory is that the origin was made by taking advantage of a piece of cooked eel. As a way to eat, first serve as it is in a bowl. Next, take a second cup as a substitute and put on a condiment (green onion, chopped seaweed, wasabi, etc.) and eat. The third cup is served with a condiment and served as a tea soup with tea and dashi. Eat the remaining rice as you like. Hitsubushi, where you can enjoy various flavors of eel, is now loved all over Japan.
2.Jumbo shrimp(ジャンボエビフライ)
Aichi people still like fried shrimp. Among them, Marumado Shokudo Ryokan Jumbo Shrimp Fried uses shrimp with a total length of 25 centimeters or more and is deeply fried. After all, it's big enough to eat.
In addition, some items are refrigerated and frozen with clothes, making them ideal for souvenirs and gifts. You can also enjoy hot fried shrimp fried at home.
3.Miso stewed udon(味噌煮込みうどん)
A dish made by boiling thick and thick noodles made only from flour and water into a thick soup made from bonito soup stock and Haccho miso, a specialty of Nagoya. Ingredients include chicken, fried chicken, eggs, green onions, etc., and excellent nutritional balance.
Hatcho miso, the center of seasoning, is a rich miso carried by Takeshi Mikawa, represented by Ieyasu Tokugawa. Its name is that it was actively made in Hatcho Village (currently Hachiman-cho, Okazaki City) in Hatcho (about 870m) west from Okazaki Castle. In Nagoya, Hatcho miso is a seasoning essential for eating habits, and it is used in miso katsu and tofu danraku in addition to stewed udon.
Rugby World Cup 2019
Rugby World Cup
The Rugby World Cup will be held in Japan from September 20th (Friday) to November 2nd (Saturday) at venues in 12 cities in Japan.
Opening Ceremony Friday, September 20
Qualifying round September 20 (Friday)-October 13 (Sunday)
Quarter finals October 19 (Sat)-October 20 (Sun)
Semi-final match October 26 (Sat)-October 27 (Sun)
3rd place decisive match November 1 (Sat)
Final game Sunday, November 2
48 games in 12 cities in Japan
All 48 games will be held in 12 cities in the Rugby World Cup.