Rugby World Cup 2019 Ogasayama Sports Park Ecopa Stadium,Access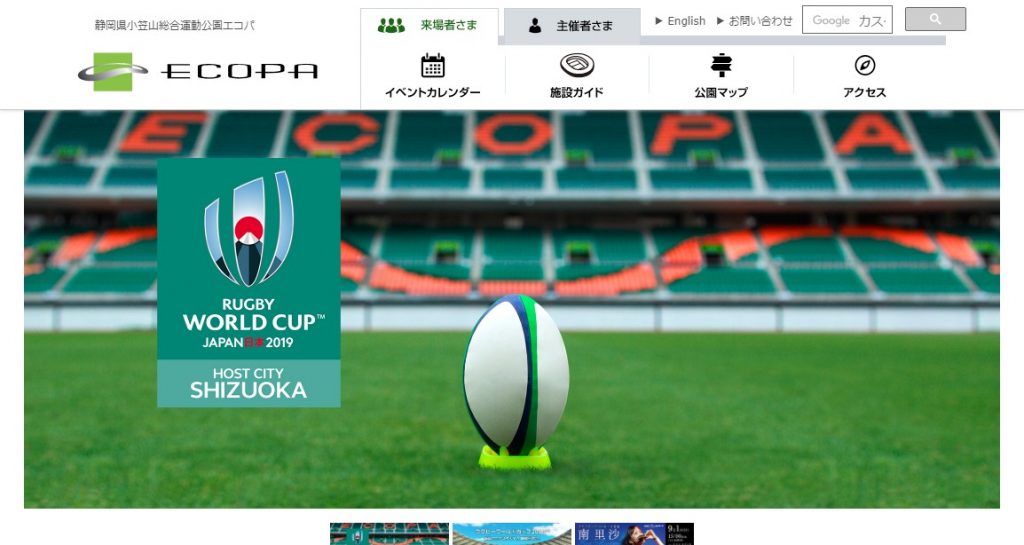 Ogasayama Sports Park Ecopa Stadium
Venue overview
access
A 15-minute walk from Aino Station on the JR Tokaido Main Line
Ogasayama Sports Park Ecopa Stadium Game Schedule / Combination
POOL A
September 28 (Sat)
16:15
Japan vs. Ireland
POOL B
October 4 (Friday)
18:45
South Africa vs Italy
POOL A
October 9 (Wednesday)
16:15
Scotland vs Russia
POOL D
October 11 (Friday)
19:15
Australia vs Georgia
Shizuoka local cuisine
1.Large Toro(大トロ丼)
Shimizu City, Shizuoka Prefecture, boasting one of the largest tuna catches in the country. Shimizu Port with good scenery, including Mt. Fuji seen from the port, is counted as one of Japan's three major beauty ports. That is why the large bowl of tuna, a high-class part of the tuna that has been landed, is lavishly placed in the bowl of "Shimizu tuna large tuna bowl". The large Toro, which is covered with oil like marbled meat, has a meltable mouth and plenty of flavor. It can be eaten at shops around Shimizu Port, so please try it when you visit.
2.Shizuoka Oden(静岡おでん)
Shizuoka Oden's dashi is characterized by its black soy sauce using chicken and beef streaks and dark soy sauce. Ingredients include plenty of local ingredients, including black bread using mackerel and sardines from Yaizu, konnyaku, chikuwa, deep-fried sweet potatoes, burdock rolls, eggs, kelp, beef streaks and potatoes. The Shizuoka style is to apply sardine shavings, bonito, and green seaweed called "powder".
Locally formed Shizuoka Oden no Kai. I want to make Shizuoka healthy with food culture. He also participated in the "B-1 Grand Prix", a town revitalization event that gathers local gourmets from all over the country, and has won the third place.
3.Raw(生しらす)
The freshly picked "raw shirasu" of Yosune Port is a perfect ♪ ♪ A taste that will heal you. The transport vessels that carry pistons between Suruga Bay and Yonjong Port are landed one after another, put up for auction, tendered immediately, and sold at the store in front of the port.
Rugby World Cup 2019
Rugby World Cup
The Rugby World Cup will be held in Japan from September 20th (Friday) to November 2nd (Saturday) at venues in 12 cities in Japan.
Opening Ceremony Friday, September 20
Qualifying round September 20 (Friday)-October 13 (Sunday)
Quarter finals October 19 (Sat)-October 20 (Sun)
Semi-final match October 26 (Sat)-October 27 (Sun)
3rd place decisive match November 1 (Sat)
Final game Sunday, November 2
48 games in 12 cities in Japan
All 48 games will be held in 12 cities in the Rugby World Cup.
前の記事