Rugby World Cup 2019 Yokohama International Stadium / Access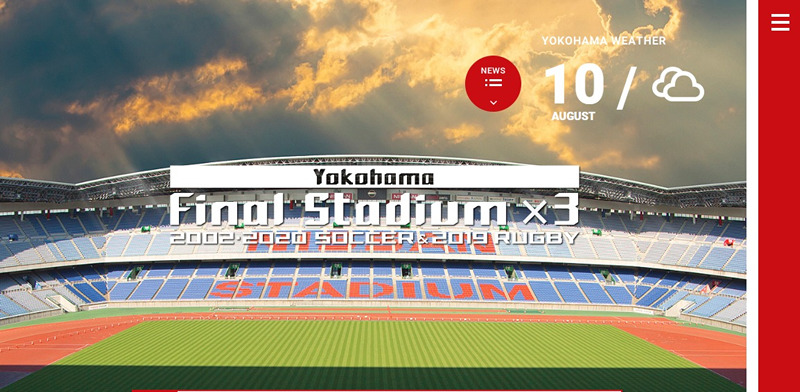 Yokohama International Stadium
Venue overview
| | |
| --- | --- |
| location | 3300 Kokakucho, Kohoku Ward, Yokohama City, Kanagawa Prefecture 222-0036, Japan |
| Seating capacity | 72,327 people |
access
14 minutes on foot from JR Shin-Yokohama Station, 10 minutes on foot from JR Kokaku Station, 12 minutes on foot from municipal subway Shin-Yokohama Station
Yokohama International Stadium Game Schedule / Combination / Access
POOL B
September 21 (Sat)
18:45
New Zealand vs South Africa
POOL A
September 22 (Sun)
16:45
Ireland vs Scotland
POOL C
October 12 (Sat)
17:15
England vs France
POOL A
October 13 (Sun)
19:45
Japan vs Scotland
Semi-finals
October 26 (Saturday)
17:00
Quarterfinal 1 winner vs. Quarterfinal 2 winner
Semi-finals
October 27 (Sun)
18:00
Quarterfinal 3 winner vs. Quarterfinal 4 winner
Final game
November 2 (Sun)
18:00
Semifinal 1 winner vs Semifinal 2 winner
Yokohama City Local cuisine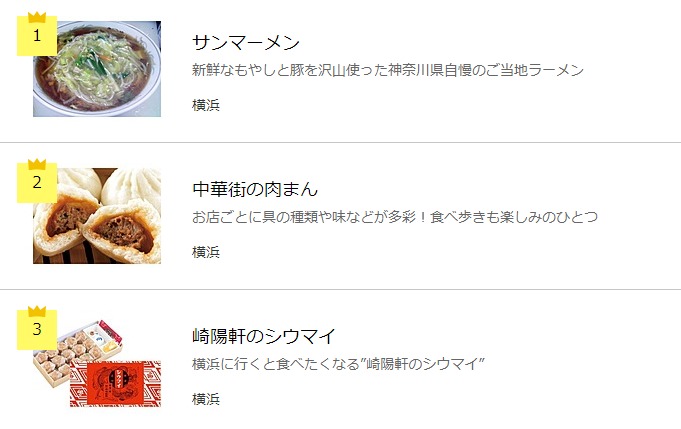 1.Sun marmen(サンマーメン)
"Sanmamen" is local ramen from Kanagawa Prefecture. "Raw horse" means lively ingredients, and it is said that it has come to be called "Sanmamen" because it uses three kinds of fresh ingredients such as "sprouts", "pork" and "tarsai". Noodles are thin and soup is salt or soy sauce. On top of that, put the bean paste made from sprouts, cabbage, jellyfish, kamaboko, and pork. Nutrient balance is good with plenty of ingredients. It is eaten especially in the south of the Tama River and the east of the Oi River, and it is becoming a local dish in the prefecture.
2.Meat Bun(肉まん)
Famous as a souvenir from Yokohama Chinatown. A variety of Chinese confectionery, including Chinese traditional sweets arranged in a contemporary style and various ingredients. There are many meat bun shops in the Chinatown of Yokohama, and there are many tourists who buy at the store and walk while eating. The meat buns in Yokohama Chinatown are characterized by their overall large size, but they also have bite-sized meat buns. There are differences in the seasoning of ingredients, ingredients, and thickness of the skin depending on the region, such as Sichuan, Guangdong, Beijing, and Hong Kong.
3.Shumai(シュウマイ)
Since opening in Yokohama Station in 1908, "Sakiyoken" has been serving delicious sweet potatoes even when cooled by applying the rich taste of scallop shells based on pork. In order to make it easy to eat even on a swaying train, the size of the bite size has been devised, so it spreads quickly, and it has been called the famous "Sakiyoken no Suumai" in Yokohama. Furthermore, by developing vacuum-packed Suumai, it has been used as a souvenir from far away and is still known as a classic souvenir from Yokohama.
Rugby World Cup 2019
Rugby World Cup
The Rugby World Cup will be held in Japan from September 20th (Friday) to November 2nd (Saturday) at venues in 12 cities in Japan.
Opening Ceremony Friday, September 20
Qualifying round September 20 (Friday)-October 13 (Sunday)
Quarter finals October 19 (Sat)-October 20 (Sun)
Semi-final match October 26 (Sat)-October 27 (Sun)
3rd place decisive match November 1 (Sat)
Final game Sunday, November 2
48 games in 12 cities in Japan
All 48 games will be held in 12 cities in the Rugby World Cup.
前の記事

次の記事