Rugby World Cup 2019 Oita Sports Park Stadium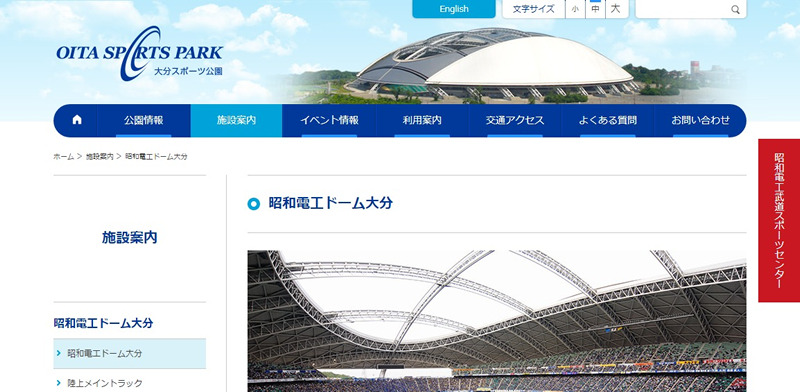 Oita Sports Park General Stadium
Venue overview
| | |
| --- | --- |
| location | 1351 Yokoo, Oita City, Oita Prefecture 870-0126 |
| Seating capacity | 40,000人 |
access
From JR Oita Station (center of Oita), take a local bus / Oita bus for 45 minutes, get off at Park Place Oita and get off at Oita Sports Park East
Oita Sports Park General Stadium Game Schedule / Combination
POOL
Schedule
combination
POOL B
October 2 (Wednesday)
19:15
New Zealand vs Canada
POOL D
October 5 (Sat)
14:15
Australia vs Uruguay
POOL D
October 9 (Wednesday)
18:45
Wales vs Fiji
Oita local cuisine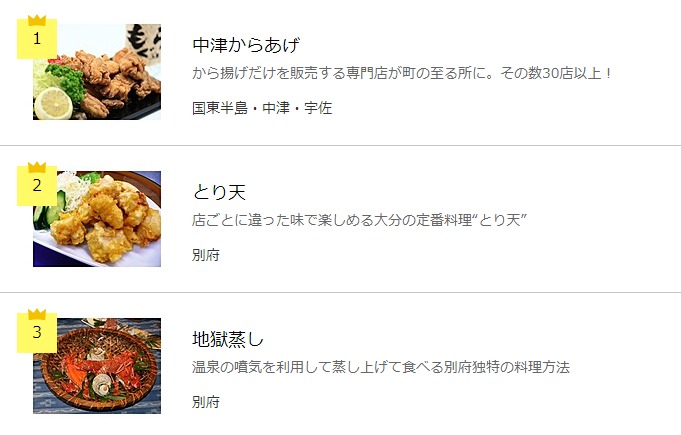 1.Karaage(からあげ)
Nakatsu City, located at the northwestern end of Oita Prefecture, is a tourist city with Nakatsu Castle and Kurama Pass. Nakatsu people love fried karaoke and are eaten at various occasions such as festivals, parties, daily dining tables, and children's snacks. The soy sauce-based sauce is made with a unique flavor of garlic and ginger, as well as the unique spices of each store. These spices are spicy and can be eaten deliciously, not just fried, but cold. Many people come from far away, not only in Nakatsu City, but the Nakatsu City Hall has created a "karaage map" to boost popularity.
2.Tori-Ten(とり天)
Oita Prefecture is the prefecture that loves chicken, with the highest consumption of chicken. Toriten is a chicken tempura that has been cut and deep-fried, and is a major dish in Oita. You can enjoy restaurants, set meals, coffee shops, Chinese restaurants, bento restaurants anywhere in the prefecture. It originated in Beppu, one of Japan's leading hot spring towns and is said to have been born as a Taiwanese Chinese food. Eating with vinegared sweet potato and mustard seems to be basic, but now it can be enjoyed with various flavors depending on each store, such as Chinese style, Japanese style, Western food type, gentle taste, garlic gutsuri type. Each one is particular about clothes and how to fry, so I want you to look for your favorite taste.
3.Jigomumushi(地獄蒸し)
Hell Steaming is a Beppu unique cooking method that steams various ingredients using the hot spring steam that is constantly spewing. Jigokugama, a cooking device that uses steam heat from hot springs, is used for cooking. The hot spring ingredients and the effect of steaming at high temperatures condense umami, adding seasonal vegetables and fresh seafood from the local area to the flavor of the hot spring. The ingredients range from locally grown crabs, shrimps, seafood such as fish and turban shells to hell steamed eggs, pork buns, pudding and corn.
Rugby World Cup 2019
Rugby World Cup
The Rugby World Cup will be held in Japan from September 20th (Friday) to November 2nd (Saturday) at venues in 12 cities in Japan.
Opening Ceremony Friday, September 20
Qualifying round September 20 (Friday)-October 13 (Sunday)
Quarter finals October 19 (Sat)-October 20 (Sun)
Semi-final match October 26 (Sat)-October 27 (Sun)
3rd place decisive match November 1 (Sat)
Final game Sunday, November 2
48 games in 12 cities in Japan
All 48 games will be held in 12 cities in the Rugby World Cup.
次の記事