Rugby World Cup 2019 Tokyo Stadium Game venue / combination / Access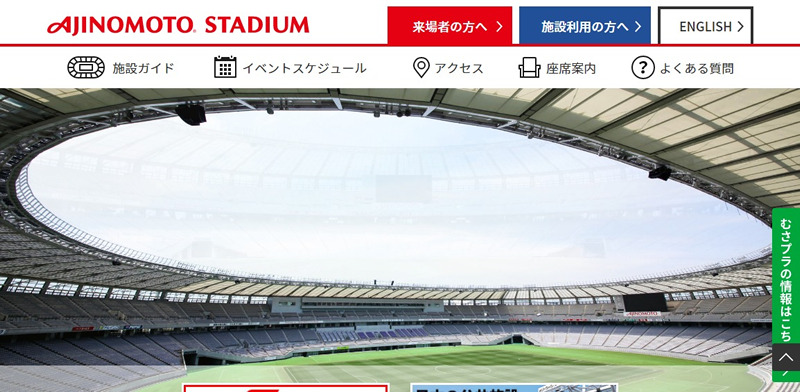 Tokyo Stadium
Venue overview
| | |
| --- | --- |
| location | 3-7 Nishimachi, Chofu City, Tokyo 182-0032 |
| Seating capacity | 49,970 people |
access
5 minutes walk from Keio Line Tobitakyu Station, 20 minutes walk from Seibu Tamagawa Line Tama Station
Tokyo Stadium Game Schedule / Combination
POOL A
September 20 (Friday)
19:45
Japan vs. Russia
POOL C
September 21 (Sat)
16:15
France vs Argentina
POOL D
September 29 (Sun)
16:45
Australia vs Wales
POOL C
October 5 (Sat)
17:00
England vs Argentina
POOL B
October 6 (Sun)
13:45
New Zealand v Namibia
3rd place decision
November 1 (Sat)
18:00
Semifinal 1 loser vs Semifinal 2 loser
Tokyo local cuisine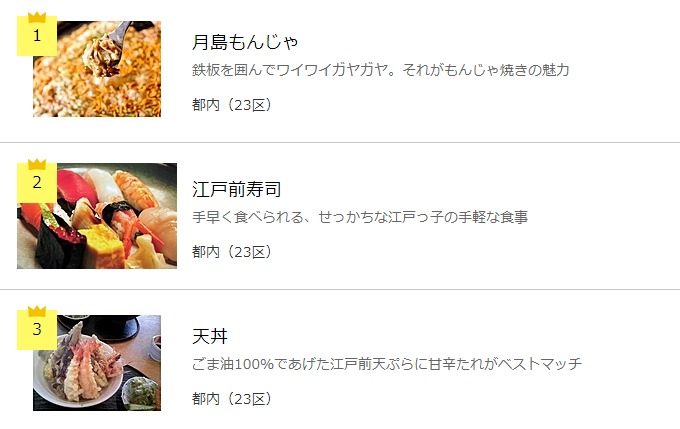 1.Tsukishima Monja(月島もんじゃ)
Tsukishima, Chuo-ku, Tokyo is a nostalgic town where private houses from the early Showa period remain when entering the alley. The "Tsukishima Nishinaka-dori Shopping Street" is called "Monjaya Street", and there are 75 shops offering Monjayaki. When you fry your favorite ingredients such as cabbage, fried ball, squid, cherry shrimp, meat, seafood, and vegetables, build a bank with them and pour thinly melted flour around. Mix slowly and cook, and season with sauce or curry powder. If you press it against an iron plate just before eating, you can enjoy a crisp and fragrant flavor.
2.(江戸前寿司)
The word sushi appeared for the first time in a historical material called "Young Age" in 718. However, sushi at that time was called "unfamiliar" and was a preserved food made by immersing seafood in rice and salt for a long period of time. The taste and shape were completely different from the current nigiri sushi. By the way, "Yuzushishi", which is popular in Shiga Prefecture, is said to be the oldest unfamiliar in Japan.
It was around 1820 that raw fish began to be used. It is said that a chef named Hanayayoe was born in Tokyo at the time called Edo. At that time, it was sold at stalls, and it was a cheap and fast common food. Many Japanese sushi restaurants don't have a kitchen, and the chefs face the customers over the counter. Nigiri sushi, mainly in Tokyo, spread throughout Japan with the development of refrigerators and other modern cultures.
The price of each sushi varies depending on the shop, which is a characteristic of sushi.
Typical examples of Edo-mae sushi include sardines such as kohada and salmon, boiled conger and steamed shrimp, and fried eggs.
3.Bowl of rice and fried fish(天丼)
Tempura, a classic Japanese food, has different seeds and deep-fried oil depending on its location. Tempura made with 100% sesame oil, white kisses, sea bream and prawns caught in Edo Bay is called Edo-mae tempura and has taken root in the area around Tokyo Bay. However, the price of sesame oil is high, and now there are only a few shops that serve this edomae tempura, but in the vicinity of Asakusa, the tempura using this edomae tempura is very popular with locals and tourists. The fragrance of sesame oil and the sweet and spicy sauce are an appetizing dish.
Rugby World Cup 2019
Rugby World Cup
The Rugby World Cup will be held in Japan from September 20th (Friday) to November 2nd (Saturday) at venues in 12 cities in Japan.
Opening Ceremony Friday, September 20
Qualifying round September 20 (Friday)-October 13 (Sunday)
Quarter finals October 19 (Sat)-October 20 (Sun)
Semi-final match October 26 (Sat)-October 27 (Sun)
3rd place decisive match November 1 (Sat)
Final game Sunday, November 2
48 games in 12 cities in Japan
All 48 games will be held in 12 cities in the Rugby World Cup.
次の記事