Rugby World Cup 2019 Kamaishi Housing Reconstruction Stadium Game venue / combination / Access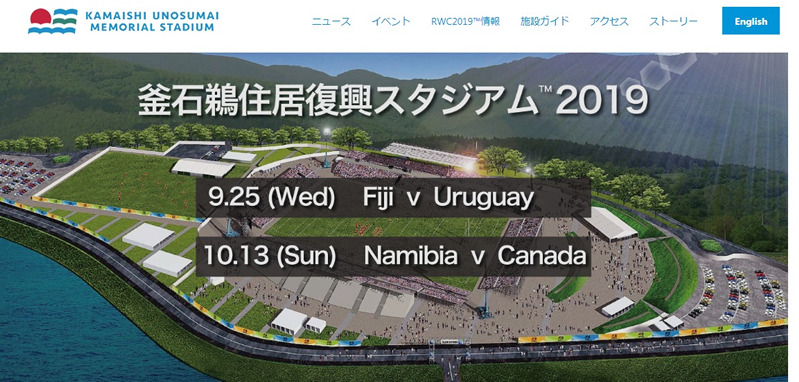 Kamaishi Housing Reconstruction Stadium
Venue overview
| | |
| --- | --- |
| location | 5-1 Kashiwazumicho, Kamaishi City, Iwate Prefecture 026-0301 |
| access | JR Yamada Line " Sakai Residential Station " |
| Seating capacity | 16,187 people |
access
JR Yamada Line " Sakai Residential Station "
Kamaishi Housing Reconstruction Stadium Game Schedule / Combination
POOL D
September 25 (Wednesday)
14:15
Fiji vs Uruguay
POOL B
October 13 (Sun)
12:15
Namibia vs Canada
Kamaishi City Local cuisine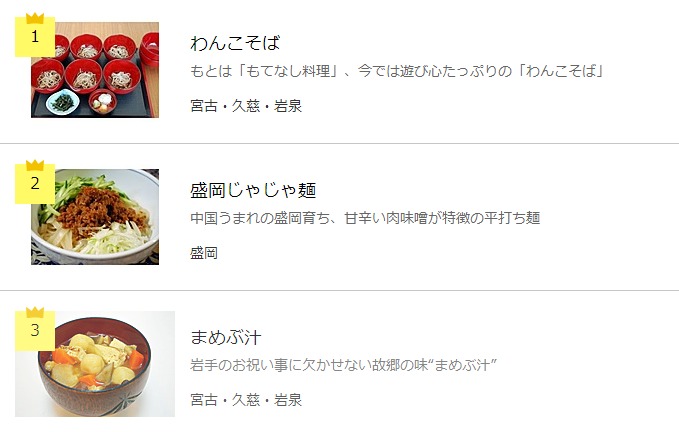 1.Wanko-Soba(わんこそば)
A special dish from Iwate Prefecture, where you can taste a bite of soba noodles in a small bowl along with the waiter 's shout "Janjan". In the old days, there was a custom of "soba-behavior" to entertain customers from far away, and as a device to provide boiled freshly, the method of "replacement" using small rice cakes was created. Today, "Wankosoba" is famous as a form of playfulness that competes for the number of bowls eaten. There are shops mainly in Morioka City and Hanamaki City. Even at home, it is said that there is a custom of taking out a small soba at the end of the banquet.
2.Morioka-Jyajyamen(盛岡じゃじゃ麺)
Noodle dishes with fried meat miso, chopped long onion and cucumber on top of udon-shaped flat noodles. Mix the special meat miso on top of the noodles and ingredients and add grated ginger, vinegar, chili oil, etc. as you like. Morioka Jaja noodles are said to have started from a stand in Morioka city with reference to home-cooked soy sauce noodles in northeastern China. After eating the noodles, it is common to taste the chicken paste with the miso remaining in the bowl and the boiled soup and raw eggs.
3.Mamebu-Jiru(まめぶ汁)
Wheat flour is kneaded in lukewarm water, and the one that has been broken to the size of a thumb is wrapped with mountain walnuts or brown sugar. This is called "Mamebu". "Mamebu soup" is what you eat in the soup. Mamebu soup has become one of the dishes that are indispensable during the New Year in Iwate Prefecture, such as New Year's Eve and Bon Festival. It is a local dish that has been loved by the locals so much that there are stories of rejoicing.
Rugby World Cup 2019
Rugby World Cup
The Rugby World Cup will be held in Japan from September 20th (Friday) to November 2nd (Saturday) at venues in 12 cities in Japan.
Opening Ceremony Friday, September 20
Qualifying round September 20 (Friday)-October 13 (Sunday)
Quarter finals October 19 (Sat)-October 20 (Sun)
Semi-final match October 26 (Sat)-October 27 (Sun)
3rd place decisive match November 1 (Sat)
Final game Sunday, November 2
48 games in 12 cities in Japan
All 48 games will be held in 12 cities in the Rugby World Cup.