Rugby World Cup 2019 Sapporo dome match venue / combination / Access
Sapporo dome
Venue overview
| | |
| --- | --- |
| location | 1 Yotsugaoka, Toyohira-ku, Sapporo, Hokkaido 062-0045, Japan |
| Seating capacity | 41,410 people |
access
10 minutes on foot from Subway Toho Line "Fukuzumi Station", 2 minutes on foot from bus stop "Sapporo Dome" or "Fukuzumi 3jo 3-chome"
Sapporo Dome Game Schedule / Combination
POOL D
September 21 (Sat)
13:45
Australia vs Fiji
POOL C
September 22 (Sun)
19:15
England vs Tonga
Sapporo local cuisine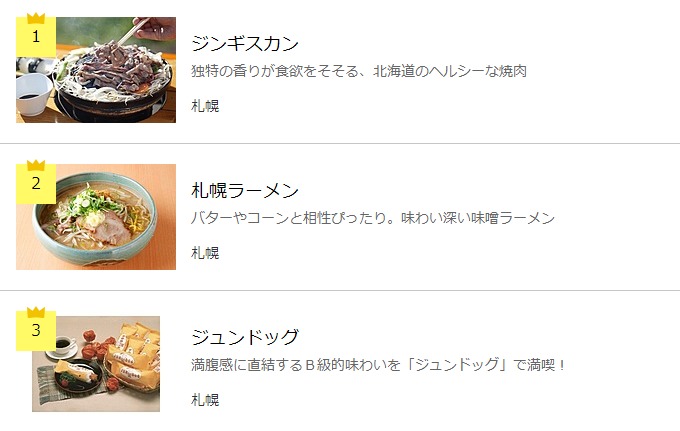 1.Jingisukan(ジンギスカン)
Yakiniku, where mutton and lamb meat are soaked in a special sauce and cooked in a dedicated Genghis Khan pan with a raised center. When cooking, the broth from the meat that is baked in the center of the pan is applied to the vegetables to be baked on the edge, making it a good seasoning. The beginning is a dish that was born as a way to use the meat of sheep that had been bred for wool. Currently it is eaten in various parts of Japan, but some local Genghis Khan parties can be seen along the river during holidays. Unflavored raw meat is baked and eaten in pickles.
2.Sapporo-Ramen(札幌ラーメン)
"Sapporo Ramen" is a local ramen from Sapporo City. After the war, ramen made from thick soup boiled from tonkotsu made at the stalls is said to have originated. Originally it was soy sauce, but at a store in the city, it was devised as a miso ramen when a customer told me to add ramen to pork soup. It became popular, and the number of miso ramen shops gradually increased. In the cold environment of Hokkaido, the soup is often floated on the surface of the soup with butter to prevent it from cooling down, and there are many shops that serve as "corn butter ramen" with toppings of corn from Hokkaido.
3.Jyun-Doggu(ジュンドッグ)
A local gourmet developed at the Western restaurant, Junpei, a Western restaurant in Biei-cho, Hokkaido. It is a product that has been commercialized in Asahikawa City and is gaining popularity as a hidden Class B gourmet. "Jundog" is a long rice ball wrapped with rice, such as fried shrimp, chicken cutlet, and coarsely ground sausage. You can enjoy a happy taste that can be said to be the best of its class with just one rice ball. The way to eat is to heat it in the range until it gets hot, then leave it for a while and steam the rice.
Rugby World Cup 2019
Rugby World Cup
The Rugby World Cup will be held in Japan from September 20th (Friday) to November 2nd (Saturday) at venues in 12 cities in Japan.
Opening Ceremony Friday, September 20
Qualifying round September 20 (Friday)-October 13 (Sunday)
Quarter finals October 19 (Sat)-October 20 (Sun)
Semi-final match October 26 (Sat)-October 27 (Sun)
3rd place decisive match November 1 (Sat)
Final game Sunday, November 2
48 games in 12 cities in Japan
All 48 games will be held in 12 cities in the Rugby World Cup.