Rugby World Cup 2019 Kumamoto Prefectural Sports Park Athletic Field,Access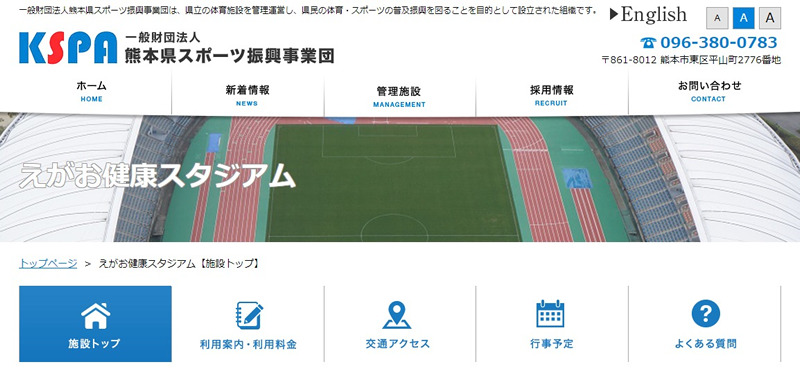 Kumamoto Prefectural Sports Park Athletic Field
Venue overview
| | |
| --- | --- |
| location | 2776 Hirayamacho, Higashi-ku, Kumamoto City, Kumamoto Prefecture 861-8012 |
| Seating capacity | 32,000 people |
access
10-15 minutes by taxi from Aso Kumamoto Airport, 45 minutes by taxi from JR Kumamoto Station, 50 minutes by bus, 5-10 minutes by taxi from JR Hohi Main Line, Hikarinomori Station
Kumamoto Prefectural Sports Park Athletic Field Game Schedule / Combination
POOL C
October 6 (Sun)
16:45
France vs Tonga
POOL D
October 13 (Sun)
17:15
Wales vs Uruguay
Local cuisine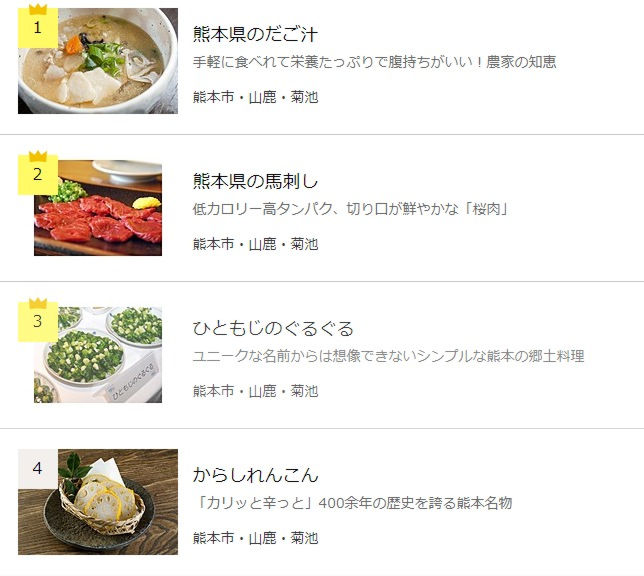 1.squid soup
A dumpling made from wheat flour, seasoned with seasonal vegetables, meat, and soy sauce or miso. "Dago" refers to dumplings in Kumamoto dialect. One of the attractions is that there are various variations in the seasoning and ingredients used in each region.
2.Horse sashimi
"Sashimi" that eats raw slices of horse meat. Eat sliced ​​onion, grated ginger, garlic, etc. with sweet soy sauce. It is a popular dish for sake. There are various theories about the origin, but there is a theory that Kiyomasa Kato spread it to the territory Higo Kumamoto in the event of food shortages. The texture and taste of each part is varied. In addition to sashimi, yakiniku, smoked and shabu-shabu are now eaten nationwide. It is also called "Sakura" because the cut surface is cherry-colored.
3.A round of people
A local dish in Kumamoto Prefecture that is eaten with a vinegar miso with a vinegar miso wrapped in ice water with a broom. In Kumamoto, the name "Wakegi" is called "Homoji" and it is said to have been given this name because it wraps around. It's not true that you can find this person in the pub of Kumamoto. This is because it takes a lot of time because it is necessary to wind it one by one. The texture of green onion with vinegar miso is perfect for sake. It is one of the local dishes that represent Kumamoto together with the hot pepper lotus root.
4. Karenkonkon
A dish in which a mixture of miso and hot pepper is stuffed into a lotus root hole, which is a lower rice cake, and then put on clothes and fried in oil. In Kumamoto Prefecture, there is a facility where you can experience making Karakonkon.
Rugby World Cup 2019
Rugby World Cup
The Rugby World Cup will be held in Japan from September 20th (Friday) to November 2nd (Saturday) at venues in 12 cities in Japan.
Opening Ceremony Friday, September 20
Qualifying round September 20 (Friday)-October 13 (Sunday)
Quarter finals October 19 (Sat)-October 20 (Sun)
Semi-final match October 26 (Sat)-October 27 (Sun)
3rd place decisive match November 1 (Sat)
Final game Sunday, November 2
48 games in 12 cities in Japan
All 48 games will be held in 12 cities in the Rugby World Cup.
次の記事