Rugby World Cup 2019 Higashihirao Park Hakata no Mori Stadium,Access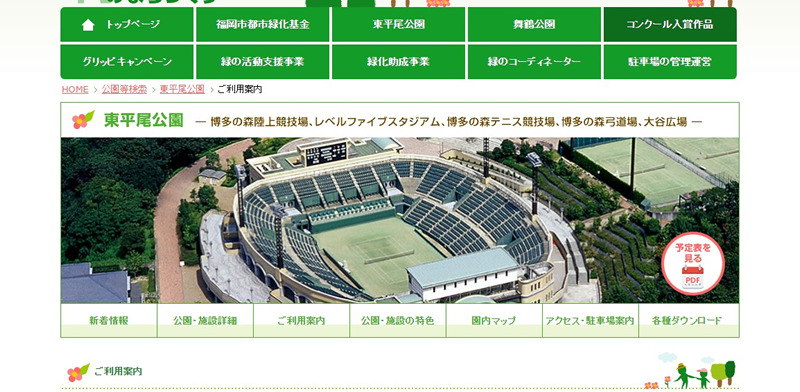 Higashihirao Park Hakata no Mori Stadium
Venue overview
| | |
| --- | --- |
| location | 2-1-1 Higashihirao Park, Hakata-ku, Fukuoka 816-0052, Fukuoka Prefecture |
| access | 8 minutes by bus or 25 minutes on foot from Fukuoka City Subway "Fukuoka Airport Station" |
| Seating capacity | 22,563 people |
Higashihirao Park Hakata no Mori Stadium
POOL B
September 26 (Thursday)
16:45
Italy v Canada
POOL C
October 2 (Wednesday)
16:45
France vs USA
POOL A
October 12 (Sat)
19:45
Ireland vs Samoa
Hakata local cuisine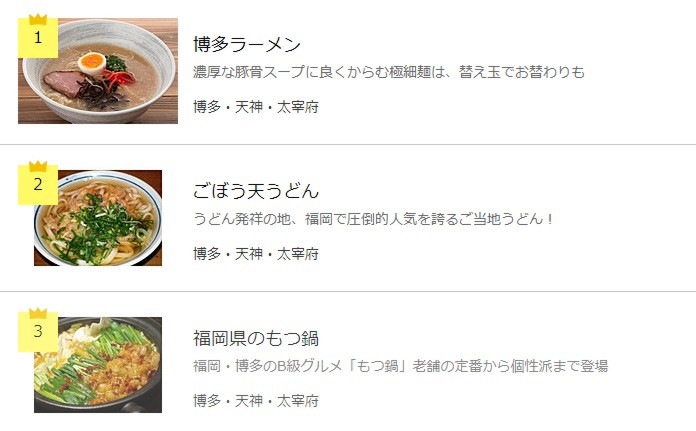 1.Hakata Ramen(博多ラーメン)
Although it is characterized by milky white and rich pork bone soup, it is characterized by the taste, color, and ingredients differ depending on the store or district. The most common thing is that there is a "replacement ball" that can replace only the noodles and the hardness of the noodles can be specified. There are a lot of shops with simple ingredients, and there are many shops with only onions and char siu or only onions. The ramen in Fukuoka City is roughly divided into Hakata ramen and Nagahama ramen, but in recent years it seems that there are fewer distinct differences. Around Tenjin, Nakasu, and Nagahama, there are places called "Street Streets" where you can enjoy finding your favorite house.
2.Burdock heaven udon(ごぼう天うどん)
Kyushu Fukuoka is said to be the birthplace of udon and is also the "Udon Kingdom". It is generally weak, and the soup is very popular among Fukuoka udon made with thin soy sauce made from kelp, bonito, urume, bonito, iriko, ajiko, chin, etc. Is "Goboten Udon". This udon that can be eaten all over Fukuoka Prefecture is a simple udon that is fried in a bowl or fried in pieces and placed on top of the udon, but the texture of the crunchy, soft noodles and soup stock The flavor of the tempura that smoked is unbearable. The sphere of influence is now so popular that it is handled not only in Fukuoka Prefecture, but also in most stores in the northern Kyushu region.
3.motsunabe(もつ鍋)
Moto-nabe, a hot pot dish that represents Hakata in Fukuoka Prefecture, is said to have been rooted in having cooked hormones in aluminum pots just before the end of the war. The modern Hakata hot pot has two types of soup: miso and soy sauce. Boiled vegetables such as leek, cabbage and bean sprouts are usually eaten with beef potatoes, and can be eaten as stamina dishes with seasonings such as chili and garlic. It is also popular to enjoy champon noodles in the pot shimeji, in addition to the regular cooking. High protein, low calorie, and plenty of nutrition, women have a good reputation.
Rugby World Cup 2019
Rugby World Cup
The Rugby World Cup will be held in Japan from September 20th (Friday) to November 2nd (Saturday) at venues in 12 cities in Japan.
Opening Ceremony Friday, September 20
Qualifying round September 20 (Friday)-October 13 (Sunday)
Quarter finals October 19 (Sat)-October 20 (Sun)
Semi-final match October 26 (Sat)-October 27 (Sun)
3rd place decisive match November 1 (Sat)
Final game Sunday, November 2
48 games in 12 cities in Japan
All 48 games will be held in 12 cities in the Rugby World Cup.
前の記事